Hello from home! (OK I'm at my mom's house, but close enough!) My mom is staying with Kennedy tonight and I am still in Clarksville. I wasn't really planning to stay overnight, but the day just got away from me and we decided it would be easier... and a nice change for both my mom and me!
Keeghan did great for his pictures today! Our ever awesome photographer,
Jamie
, even has previews up already!! Here are a couple of my cute little guy: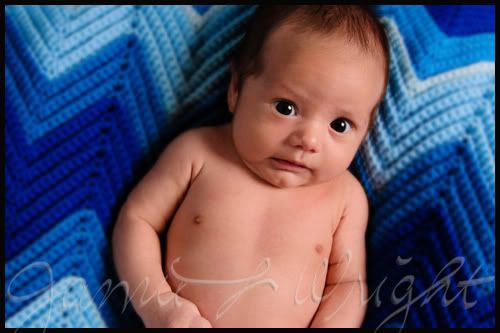 Look at those eyes!
My little muscle man
I can't wait to see the rest!
I got Kennedy's pictures back today as well, and didn't have time to scan them all, so you're going to have to wait until next time I'm home, but they're wonderful!!!
After we did pictures I went to my house and picked up Frank and the kids and then went to see my friend Angela (Cody's mom) http://www.carepages.com page name: CodyMyers1. Their family is a never-ending source of inspiration for me! I took them all their "Cancer Sucks!" t-shirts from our store... I think it's our motto up on 6A! I'm wearing mine right now! Be sure to keep Cody in your prayers!
Then the kids (most of them anyway) and Frank and I went out to dinner and now we're at my mom's and I'm getting ready for bed. It's weird not being in the hospital right now! In the morning I am going to run to Wal-Mart before I head back to Vandy. I'm sure Kennedy is having a great time with Grandma. She said Kenn's been a little tired today, so hopefully she'll have more energy tomorrow. I'm going through Kennedy withdrawals already!
Anyway, I don't have Kenn's counts in front of me so I'll post those next time, but they are all up from yesterday. They also did a thyroid screen which came back normal, so yay for that!
OK it's past my bedtime, sorry for rambling! I mostly just wanted to share Keeghan's pictures! ;)
I just realized I forgot to post what I was thankful for in my last entry... so here's two! I am thankful for my 4 beautiful children, they are all so crazy and they keep life fun! I am thankful for my mom being with Kennedy right now so I can sleep and not worry, and I am thankful that Jenny (the music therapist) gave Kennedy her recorder on the day I was leaving! LOL OK that's 3! :o)