OK Kennedy was tagged by
Peanut
to do the
Love and Hate MEME
. SO here are a bunch of Kennedy's likes and dislikes:
Things Kennedy Loves:
Balls
Books
French Fries
Mommy and daddy and grandma
Kassidy, Kameron & Keeghan
Attention... lots and lots of attention
Giving everyone a goodnight kiss and saying "mornin!" (which means "see you in the morning!")
Saying
WHY?!
Asking for a tissue, using it once and then handing it back to you
Her nurses and doctors and friends at
Vandy
oh yes and lest I forget,
Groovy Girls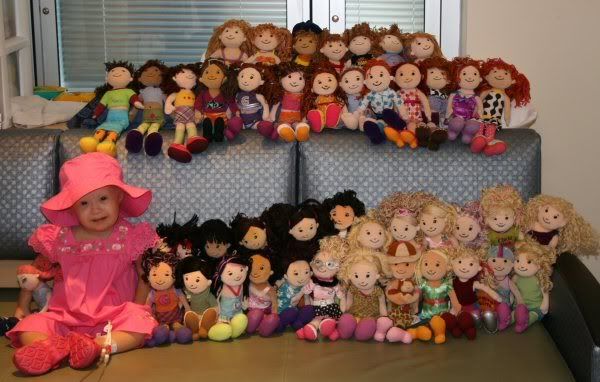 That about covers it! LOL
Things Kennedy does not like:
CANCER
Chemo
Being sick
Having diarrhea... several times a day... since October.
Yogurt
When Keeghan tries to pull her earrings out
When she asks for water and you don't have it magically appear in .2 seconds
When Kass and Kam are at school and Keeghan is napping... life is boring!
Kennedy now tags:
Jonathan
,
Kayla
,
Elliot
and
Emma Sage