This post is going to receive the widest range of feedback of any post on this blog. I guarantee it. Some of you will say, "I totally saw this coming!" Some of you will fall over in shock. Some of you will be excited. Some of you will think we're nuts. Some of you will get tears in your eyes. Some of you will laugh. Some of you will click off of this blog and never return. Some of you will not be able to wait for the next step in this new course of our lives.
Without further ado, we would like to you meet our new daughter: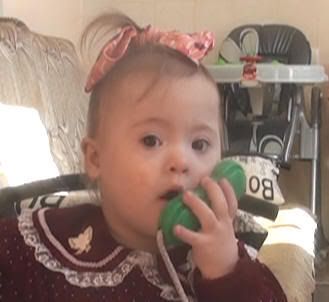 Kellsey (formerly known as Victoria) is sitting in an orphanage in Eastern Europe, waiting for us to bring her home. God willing, she will be here before Summer's end.
So to answer your questions (that you haven't yet asked, but I know you will):
Uhhh weren't you DONE having kids??
Yes... we thought so. Apparently God had other plans. No worries though, this baby factory is CLOSED! haha
Why adopt?
There are millions of orphans all over the world. I know that you know that. We can't save them all...
but we can give one
a loving family and a chance at life.
Why the Eastern Europe when there are already kids here who need a home?
Yes. Absolutely there are kids here who need homes. The thing is, when Kellsey turns 5 she WILL be sent to an institution where she WILL be left to die.
Remember?
Kellsey's fate is not unlike
these kids
.
Don't you have ENOUGH on your plate?!
YES! BUT the way we figure it, we KNOW Down syndrome, and seriously, there's not much she could throw at us medically that we haven't already encountered. And really, when you have 4 kids already... what's one more?! I have no doubt she will fit right in and be playing
Groovy Girls
in no time.
We really feel that this is what the Lord is calling us to do. And while He definitely gives us more than WE can handle, He will never give us more than HE can handle.
What do the kids think of this?!
Kassidy and Kameron are VERY excited!! We've talked about it at length with them and they can't wait for her to get home! We have talked to them about the fact the Kellsey has Down syndrome, like Kennedy, and Kassidy said, "GREAT! That's what makes Kennedy so cute!" LOL Kameron just asked if we could get a boy too. (Uhhh no!)
What's the next step?
Our Homestudy. We will start this as soon as Frank comes home and gets settled.
What is the cost involved in this?
An adoption from Eastern Europe costs about $22,000. Yes, you read that right! We will be doing major fundraising, applying for adoption grants, etc.
Most importantly, tell us about Kellsey!
Kellsey is amazing! She turned 2 years old on November 6th. This would make her birthday 3 days after
Kameron's
and two days after
Kassidy's
. This also makes her exactly 6 months older than Keeghan. (They'll get to start Kindergarten together!) I have heard she is already walking and very social. She has a small heart defect which sounds like will not require surgery, and is otherwise very healthy.
How can we HELP??
I'm glad you asked! Most importantly, be in prayer. Pray for our family as we go through the adoption process. Pray for VERY minimal red tape! Pray for Kellsey, that she remains safe and healthy until we can get her home (uhh and then that she remains safe and healthy here too! LOL). If you feel led to help us financially, you can sponsor our adoption
here
. Every donation is tax deductible and will stay with Kellsey. Meaning that if something happens to where we are not able to adopt her, the money will stay in her fund for the next family. Your help bringing our daughter home is invaluable to us!!!
You can follow our adoption journey on our new blog!
Bringing Kellsey Home!

You can also grab her button for your blog or website below!

Copy and paste this code to your HTML/Java Script:
We hope that you are as excited as we are to see our new daughter come home and thrive!