I think I've mentioned once or twice that I'm stubborn.
No comments from the peanut gallery.
Well, one area of my stubbornness transcends to television. If I don't watch a show from the beginning, you can pretty much guarentee that I won't pick it up in the middle and start watching. Two shows I can think of in particular that people promised me I would love are Grey's Anatomy and One Tree Hill (is that even still on?!). Since I didn't catch them from the beginning, I don't watch them. I don't like coming into the story part way through. I'm sure they're great shows, but I just can't do it.
The other one people seem to love which, of course, sparked my interest is Army Wives.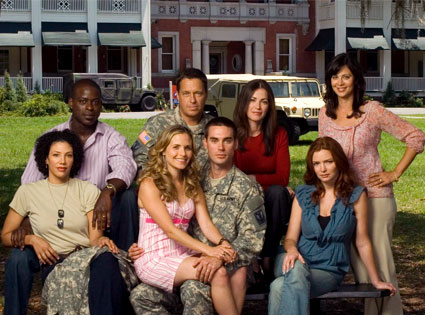 But I'm stubborn, remember?
Well my wonderful husband figured out how to download every episode so far!! SO last night we sat on the floor, made necklaces, and watched Army Wives from the beginning. We're about 6 episodes in now. I'm hooked. I admit it. It's a great show! But see, if I started with season two I wouldn't have stuck with it. I know, I'm weird. Whatever.
Anyway, I can't wait to catch up so I can talk about what's going on NOW, but no one ruin it for me, k? One good thing about doing it this way is instant gratification AND no commercials! How great is that?! haha I might be a little sad when we're all caught up.
How many of you watch this show and love it (or hate it)? If you're a Military wife and watch it, I'd be interested to hear how accurate you think it is to living on Post (or Base). I've always lived off Post so I can't really relate.
OK off to watch the rest of season one!